WELCOME
Coast to Coast
Paddle
Standup Paddleboard and Kayak
Lessons • Rentals • Group Paddle Events • Four Season Paddle Tours

Standup Paddleboard and Kayak the North Shore of Massachusetts!
We are a Standup Paddleboard and Kayak Outfitter, offering rentals, lessons, tours, and group paddle events throughout the year! Our Beverly and Salem Kiosks are right on the water, so during the summer all you have to do is show up and paddle! In the off-season, check out our weekly destination paddle tours, offered through the fall, winter, and spring! Choose your option below, or call or email to find out more information!
Off-Season Paddle Tours
"The river landscape…acquires a new strength in its winter barrenness and austerity, and a surpassing richness. Its harmonies are simple and clear…"

~Harland Hubbard
Shantyboat: A River Way of Life
We paddle year-round, because the alternative- not paddling- is simply not an option. Rather than the off-season being something we merely survive, some of our favorite paddling is to be found here! Whether paddling the Ipswich River beneath a colorful canopy of changing leaves in fall, taking a winter paddle up the coast of Beverly past snow-capped rocky points, or paddling out to Misery Island and hiking the trails among blossoming bushes in spring, we truly believe there is no bad time to get out there!
Not sure if off-season paddling is for you? Click here to learn more, and make sure to follow us on Facebook and Instagram so you can see just how beautiful it is out there! Have some questions? Shoot us an email or give us a call anytime!
Kayak and SUP Group Paddles
We love being on the water, and even more, we love being out there with others! We have group paddles scheduled throughout the year- Summer, Fall, Winter, and Spring, we're out there, and we want to help you get out there too! From Sunset Paddles, to Adult Paddle Camp, to our always popular Paddle and Pints, our schedule is loaded with group paddles! Check out our events page, choose your adventure, and join us on the water!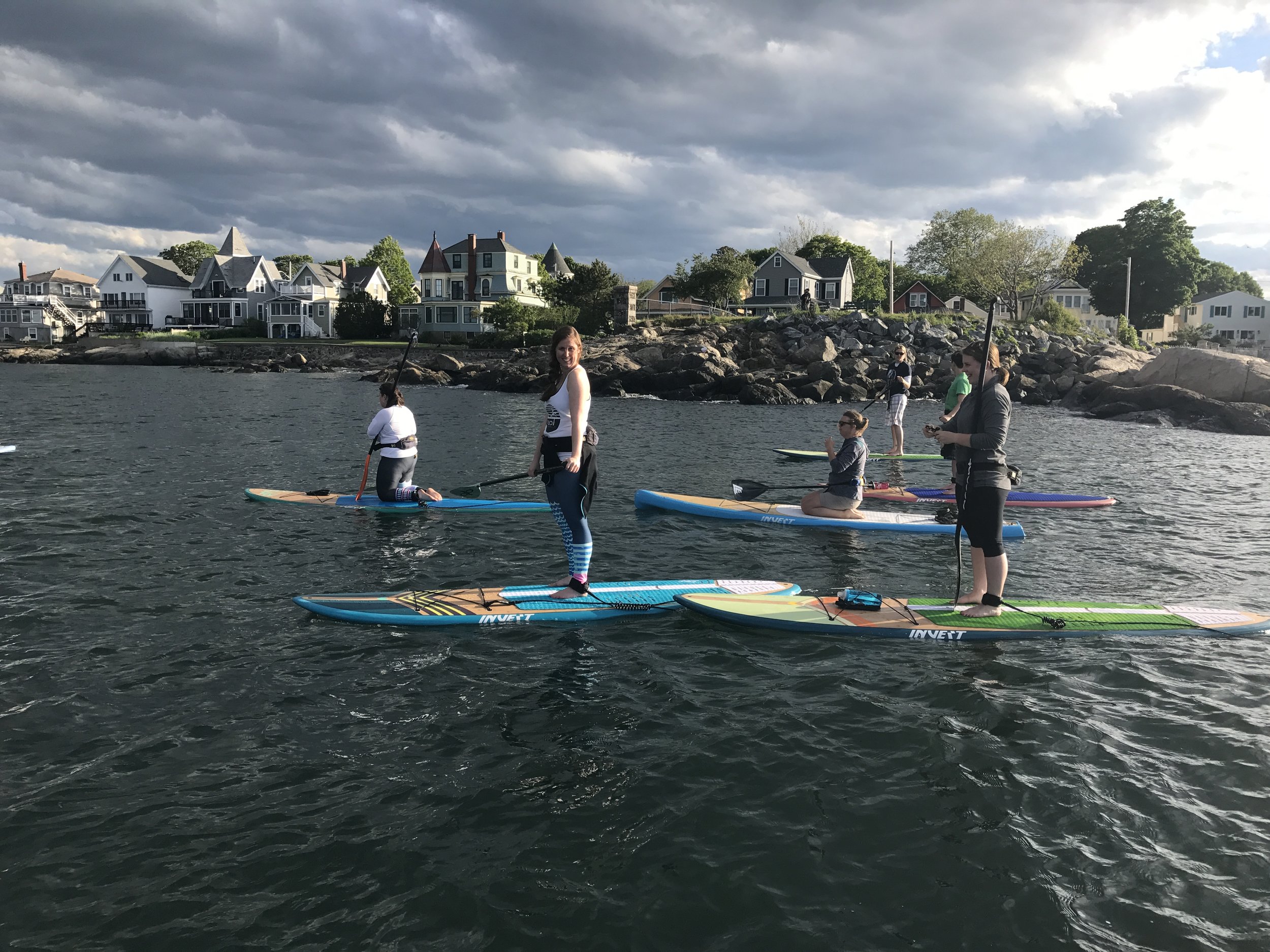 Kayak and SUP Lessons
A kayak lesson or standup paddleboard (SUP) lesson is a great way to jump start a lifetime of paddling. If you're new to paddling, let a qualified instructor show you the basic techniques for getting on a paddle board or in a kayak. Emphasis in these lessons is placed on proper technique, safety, and efficiency, so you can get the most out of your time on the water.
For paddlers who have already mastered the basics, a lesson is a great way to leap-frog your skills, so you can paddle further up the coast, or to that island you've dreamed of reaching.
We offer private and group instruction, weekly beginner classes and advanced classes for both paddleboards and kayaks. Lessons may be scheduled on request at either our Beverly or Salem locations!
Kayak and SUP
Rentals
Rent a standup paddleboard or kayak and explore the diverse paddling opportunities in Beverly, Danvers, and Salem. Whether you seek clear coastal waters, protected harbors, or meandering estuaries, we can help get you there! We offer convenient kiosk locations at both Salem Willows Park in Salem and Independence Park in Beverly, so no worries about having to transport boards or kayaks yourself.
Rentals typically start on Memorial Day Weekend each season, and run until Columbus Day, weather pending. We have standup paddleboards at both our Beverly and Salem locations, sit on top kayaks at our Salem location which are great for beginner to intermediate kayakers, and sea kayaks at our Beverly location which are available to experienced kayakers.
Reservations can be made online or by calling or emailing us!
Weekly Paddle Events
Throughout the summer, we offer unique, special paddle events, often collaborating with other small businesses in our community to bring you fun, new, and exciting ways to hit the water! However, we also offer regularly scheduled Paddle Events like SUP Yoga, Sunset Tours, and Group Lessons. Whether you're looking for a good workout, a chance to relax with friends post-work, or jump into the world of paddling, we've got you covered each week throughout the summer. Check out the events, below, and book your on the water experience today!
Salem Location- Salem Willows
To say we're happiest at the Willows is no exaggeration. (And it's not just because of the popcorn , though that doesn't hurt.) Designated a public park in 1858 and turned into an amusement park in 1880, this stunning ocean-side park featured boat slides, rollerskating rinks, and a casino. In it's hay day, the park drew as many as 10,000 visitors, many drawn by famous singers such as Duke Ellington, Count Basie, and Louis Armstrong.
Today, the Willows is still a charming, beautiful ocean-side park, offering food, entertainment, and, of course, paddling, to park-goers from all over Massachusetts. Come see why we think the Willows is one of the best places to paddle on the North Shore!
Beverly Location- Independence Park
Lest it seem we play favorites, let us tell you why we also love Independence Park in Beverly. The sandy beach and protective cove make it a great place to launch boards and kayaks, but it's the residents and visitors that frequent the park that make us proud to call this home. Nearly four years ago we dropped off our first rental here, and since then have been welcomed by the regular beach-goers.
Now as we look forward to our fifth season here, we're proud to say we've introduced thousands of people to paddling on this little known gem of a beach, know every rock on the way to the water, and have come to call the regular beach-goers and neighbors our friends and look forward to greeting them as each summer season rolls around. And now with a weekend kiosk set up just feet from where John Glover first read aloud the Declaration of Independence, and where a group of militia successfully defended a naval attack by a British Warship, we couldn't be more proud of our local neighborhood beach!
Get in Touch
With Us!
One of the best things about being on the water is the way it allows you to disconnect from our digital world. But in order to help you do that, we stay connected in every way we can think of!Phone, email, Facebook, Instagram, Twitter (smoke signals, tin cans and string)...we're available most times of the day. If you leave us a message and we don't respond right away, we're probably just on the water, but will touch base as soon as we get back! In the meantime, sign up for our email newsletters below, and make sure you follow us on all of the socials!
Have a question or want to learn more? Use the form below and we'll reach out as soon as we rinse the sand off our feet!